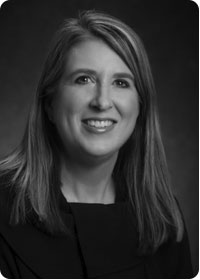 Kelly Conklin focuses her practice on commercial litigation with an emphasis on real estate disputes. She regularly represents title insurance companies, their insureds, and title insurance agencies in matters involving title disputes, title insurance coverage, and escrow claims. She is experienced at handling matters involving title defects, surveying disputes, easements, adverse possession, mechanic's liens, closing a real estate transaction, foreclosures, tax lien transfers, boundary disputes, title policies and title commitments, forgeries, home equity loans, and equitable subrogation. She also represents clients in business disputes, construction defects, covenants not to compete, premises liability, securities arbitrations, and collections.
Ms. Conklin began her career at McGinnis, Lochridge & Kilgore, LLP and had a broad practice that primarily focused on commercial litigation, employment law, and life and disability insurance defense under state law and the Employee Retirement Income Security Act. Ms. Conklin also represented clients in matters involving oil and gas, consumer finance, school law, and collections.
Ms. Conklin graduated from Texas A&M University in 1992 with a B.B.A. in Marketing and from the University of Houston in 1995 with a Juris Doctorate.