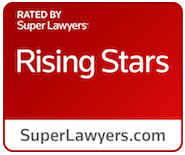 Christin is a litigator and appellate lawyer with "first chair" trial experience, and has represented individuals and businesses in a wide range of disputes, including nuisance, breach of contract, construction defect, breach of fiduciary duty, and fraud, and across a spectrum of practice areas, including construction litigation, consumer law, employment disputes, real estate litigation and
personal injury, and at all stages of trial and appeals.
Christin is a native Houstonian, and attended the University of Texas at Austin where she was a proud member of The University of Texas Longhorn Band. She received her Bachelor of Arts
in Psychology and then received a Master of Arts in Forensic Psychology from Marymount University in Arlington, Virginia.
While completing her Master's Degree, Christin worked as a Sentencing Advocate Intern at the Public Defender's Office in Fairfax, Virginia, where she wrote sentencing memoranda in support of alternatives to incarceration, interviewed inmates charged with felony offenses to assist in criminal and background investigations, and screened clients for mental illness, intellectual disability, and drug and alcohol dependency. She also worked with patients at a local mental health center, using that experience to later identify and examine mental health legal issues for indigent defendants.
Christin then began work as a Mitigation Investigator with the Capital Defender's Office in Northern Virginia. It was there that she developed her passion for legal advocacy, particularly for the disadvantaged and mentally ill. In this role, Christin worked hand-in-hand with experienced attorneys and conducted international, psychosocial background investigations of indigent clients charged with capital murder, interviewed potential witnesses and experts to develop mitigation themes in support of lesser sentences, and prepared guilt and penalty phase trial presentations.
Christin graduated Magna Cum Laude from South Texas College of Law, where she won a mock trial advocacy award, received highest grade awards in Legal Writing and Criminal Trial Advocacy, and was honored with the Judge John G. Bowes Memorial Writing Award.
Her work on intellectual disability law in Texas was subsequently published in the South Texas Law Review. She was also a member of the Order of the Lytae, the Houston Young Lawyers Association and volunteered with the Boys & Girls Club of Greater Houston.  During her time in law school, Christin was a Law Clerk for Rusty Hardin & Associates, where she focused on all aspects of civil and criminal litigation. Christin also interned with the Texas Defender Service, where she was an integral member of the legal team that obtained an eleventh-hour stay of execution for Duane Buck after uncovering a pivotal legal issue involving racial stereotyping.
Prior to joining Irelan McDaniel, Christin practiced at Hirsch & Westheimer, P.C., where she litigated a variety of complex commercial and business cases with an emphasis in real estate, construction, and insurance law. Before her time at Hirsch & Westheimer, she practiced for six years at Feldman & Feldman, P.C., and litigated a variety of cases in state and federal courts, obtaining three favorable verdicts as "first chair" trial counsel, and favorably resolved dozens of other cases on summary judgment, or at mediation.  Christin was recently recognized as one of the 2021 Super Lawyers 'Rising Stars' for Business Litigation.
BA, 2002, University of Texas at Austin


Member of the Texas Longhorn Band

MA, 2004, Marymount University
JD, 2012, South Texas College of Law, Magna cum Laude


Member of the Order of the Lytae
Member of the South Texas Law Review
Houston Bar Association – Litigation, Construction and Real Estate Sections


Professionalism Committee 2020-2021
Gender Fairness Committee 2020-2021

American Bar Association
Baker Institute of Emerging Leaders
Texas Bar Foundation Fellow
All Texas State Courts (Bar No. 24083097)
U.S. District Court for the Northern District of Texas
U.S. District Court for the Southern District of Texas
U.S. District Court for the Eastern District of Texas
U.S. District Court for the Western District of Texas